Welcome to the 'Smits Dreamland' part of our site, dedicated to our private collection. We have made a selection of what we have collected over many years, and it will give you a general view of our very wide interests.

The great thing about collecting is the challenge to find a rare example, and if necessary, to restore it, pushing you again to find parts from all over the world. Afterwards it gives very great pleasure to see the very ill "patient" shining like new again, followed of course by riding the machine where it belongs. Every configuration of engineering has its own character and charm. On these journeys you will arrive at the most curious places and meet all kinds of people, often as crazy as yourself ! The same can be said about attending Rallys and club events, meeting all these enthusiasts – it makes it great fun.

We hope you will enjoy these pages.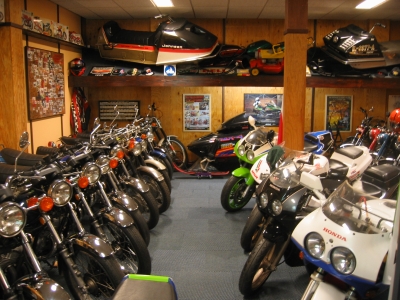 //Dit bestand bevat de opdrachten voor het opzetten van een verbinding met een database $db = mysql_connect("localhost", "asmit_db", "asmit") or die ("Verbinding mislukt"); mysql_select_db("asmit_db",$db); ?>